Introduction
From drills to miter saws, DeWalt's name is synonymous with quality.  When an experienced craftsman is asked who the best tool manufacturer is, their reply is more than likely going to be DeWalt and that legendary high standard continues with the DeWalt DWE7491RS.  Carrying on DeWalt's tradition of producing quality power tools, the DWE7491RS builds upon the wildly successful 744's and 745's.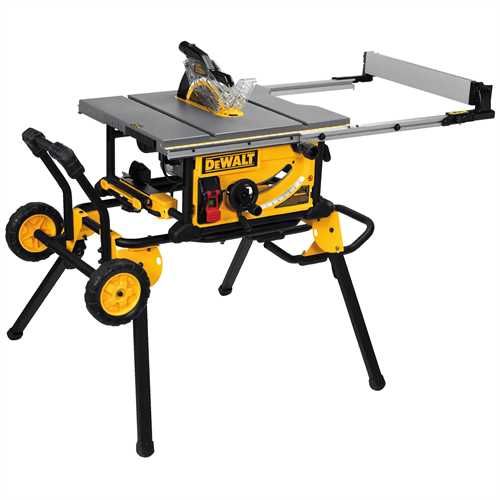 Best Features
Nearly every feature on just about any DeWalt tool could be considered a "best feature", but with the DWE7491RS, one of the best features would be the foldable stand.  Though it may be heavy once completely assembled with the saw itself, getting from the storage position, to the operating position and back is fast and simple.
Another great feature is the onboard tool and accessory storage that ensures what you need is close at hand when you need it.  However, the best feature has to be the ingenious flip over fence.  This feature provides the benefit of cutting narrow material without having to remove the blade guard and also providing additional support when cutting wide material.
Advantages
One advantage of the DWE7491RS is that it has two dust collection ports. One is located below the table and used to collect the majority of the dust created while making cuts and the other is located above the blade guard.  This innovative additional port is designed to collect the additional dust that collects on the table top.
Another advantage is that the saw features an on/off switch with a safety cover.  In order to turn on the saw, the safety cover has to be raised.  For easy and quick shut-offs, the saw has a bump pad.
Disadvantages
There are few disadvantages with this model.  One of them is the dual dust collection system. While a great idea, the additional port that is supposed to remove dust that has collected on the table top can be a pain to set-up.  This is mainly due to the fact that the additional port is only 1-1/4 inches while the main port is 2-1/2 inches.
Finding a "Y" fitting that will fit those two sizes is like finding the Lost City of Atlantis.  Another potential disadvantage with this saw is the plastics components.  The plastic combined with a moving component such as the fence could lead to breaks or easily wear out.
Best Suited For
Even though it does have its flaws, the DeWalt DWE7491RS is one of the best portable table saws you can get currently on the market.  Offering features that you would expect to find on higher priced saws, this is one of the most affordable and well-rounded saws that can be used by nearly everyone in any location.
Portable, reliable, and versatile, this saw is perfectly suited for both the seasoned professional and the first time user.  With great power, probably the largest rip capacity available on a table saw in this class, and one of the easiest to use mobile stands, weekend warriors and everyday construction professionals are assured accurate cuts regardless of the site location. If you are looking for a overall very solid table saw for an even better price then this is the model for you
(Visited 211 times, 2 visits today)